There are all kinds of scams out there these days. In addition to phone call scams, text messages, and group messages, the iMessage function on the iPhone has been a recent way that scammers are trying to trick us. How can you effectively filter and block these messages? Read on to find out!
What is iMessage?
iMessage is the built-in messaging function for iPhones. As opposed to regular text messages, as long as both parties use iMessage while connected to the Internet, they can send messages for free. If you see the source of the message is an email and not a number, then you know it is an iMessage.
However, this convenient free-to-use text function on the iPhone has been abused by people with nefarious intentions, resulting in an endless stream of spam messages. Recently, people have been seeing all kinds of messages from people claiming to know them, offering bank loans or wealth management advice. There have also been phishing links and requests to add users' LINE accounts. If a user were to accidentally click on a phishing link, they could be at risk of having their personal information stolen or other loss of property.
Since Apple has not opened iMessage to third-party developers, Whoscall's Smart SMS Assistant cannot yet filter iMessages. But do not fear! In this article we will discuss common recent iMessage scams and how to prevent them.
I need your help right now. Would you please add my LINE? Watch out for this trap!
What are some iMessage scams that you might see? Right now, a common iMessage scam is pretending to know you, with messages reading "This is XXX who has been in contact with you recently, please add my LINE." They then attach their LINE contact information as seen below.
After adding their LINE, they invite you to join an investment or wealth management group. The group contains fake moderators and teachers who will trick people into investing before defrauding them of money and personal information.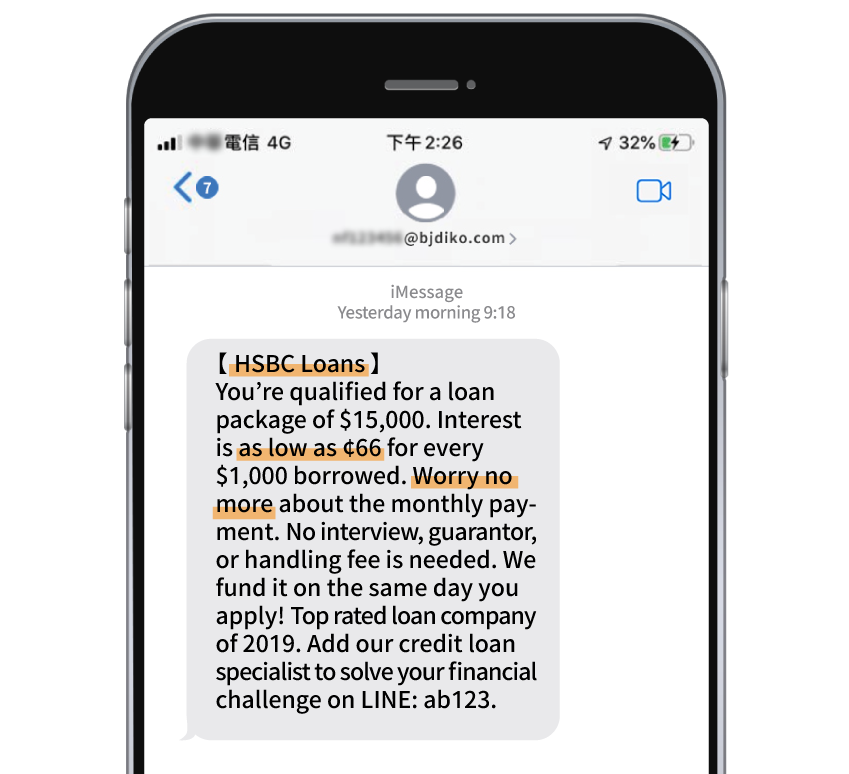 The message might also claim to be from a bank. Without any special means of verification, people can be easily tricked. In the above loan example, after people add their LINE, the scammer will provide them with a fake link to fill in their personal information. The site will then display a completed loan amount. Once people believe the loan has been successful, the scammers will falsely assert that their account has been frozen and ask them to send money to unfreeze it. People then send money, thus falling into the scammers' trap.
Always keep these important steps in mind to prevent fraud!
Step 1: Be vigilant and verify, verify, verify!
First, always be suspicious when you receive a text from an unknown number. Even if they say something like "I need you urgently, we have been in contact before," don't just add their contact information without thinking. If it's someone you know, you should still double-check by searching on another official channel for confirmation.

Step 2: Do not click unknown links or give away personal information
If you receive a mysterious link, do not open it and do not follow instructions to provide personal information or enter personal information on an unfamiliar website. The scammers might be using a phishing site to defraud your information and use it to steal property. Remain vigilant to prevent fraud!

Step 3: Dial the 165 Anti-Fraud Line
When encountering a potential scam, you can immediately dial 165 for the anti-fraud hotline for consultation and verification. Tell the 165 specialists about the scammers so they have nowhere to hide!
Anti-fraud 101: four ways to prevent iMessage scams!
If you are on iOS 16.2 or above, the iPhone will automatically enable the "Message Filtering/Filter Unknown Senders" function, detecting potential iMessage spam messages, and put the filtered spam messages in the "Edit" button of "Show spam" in Messages App. Messages filtered as spam cannot be responded directly and will be automatically deleted after 90 days.

Restoring the spam messages that have been filtered out, click "Edit", "Show Spam", select the conversation you want to restore, then select "Not Spam", and finally click "Remove from Trash".

If you have not updated to iOS 16.2 or above, it is recommended that you follow the suggested method for anti-blocking:
Method 1: If you receive junk messages sent through an iCloud account or email, tap the number or contact at the top of the message, then tap "Info"button.
On the Details screen, tap "Block this Caller" to permanently block the ad account, and you will no longer receive any ad message.
Method 2: Alternatively, you can report this type of iMessage directly to Apple. Tap on "Report Junk", and tap "Delete and Report Junk" to complete the procedure.



Method 3: If you are sure that the iMessage function is not in use, go to the iOS "Settings" to find "Messages", and turn off "iMessage" directly. By this method, you can avoid being harassed by iMessage junk texts or advertising messages!


Method 4: If you still need to send or receive iMessage through your phone number, you can remove email address from iMessage individually. Go to the iOS "Settings" to find "Messages" as method 3, tap "Send & Receive" underneath "iMessage" , uncheck the blue tick on the left of the email address, and it is done!


As for text message safety, leave it to Whoscall!
Spam can come from regular text messages as well as iMessage. Once you learn how to prevent iMessage scams, leave the regular texts to Whoscall!

Whoscall Smart SMS Assistant: Automatically filter messages, block high-risk spam, and get double protection for better peace of mind!

To download/update Whoscall, click here:https://general.onelink.me/3641113820/5366623e